Today, I want to talk to you about doing design research for your print on demand drop-shipping business.
Why does this even matter? Because proper design research is the cornerstone of building a successful POD business.
Most people get this all wrong and end up selling designs that just don't work, wasting tons of money and effort in the process.
"If you fail to prepare, you prepare to fail." – Benjamin Franklin
Here's what you're going to learn today:
Why design research is crucial
The step-by-step process to research winning designs
Real examples of successful designs in a specific niche
Proper design research ensures your POD products will actually sell. So many businesses dive right into marketing without doing research first. Don't be that person!
Here is the 5 step process I use to research winning designs. This is the exact same process I've used to do over $5 Million in revenue with our print on demand drop-shipping business:
Step 1: Pick a niche

Choosing a niche focus is the first step. Don't try to sell every design under the sun. Laser focus on a specific niche at first. For example, let's say we pick yoga and decide to sell t-shirts for Yoga lovers.
Step 2: Research Etsy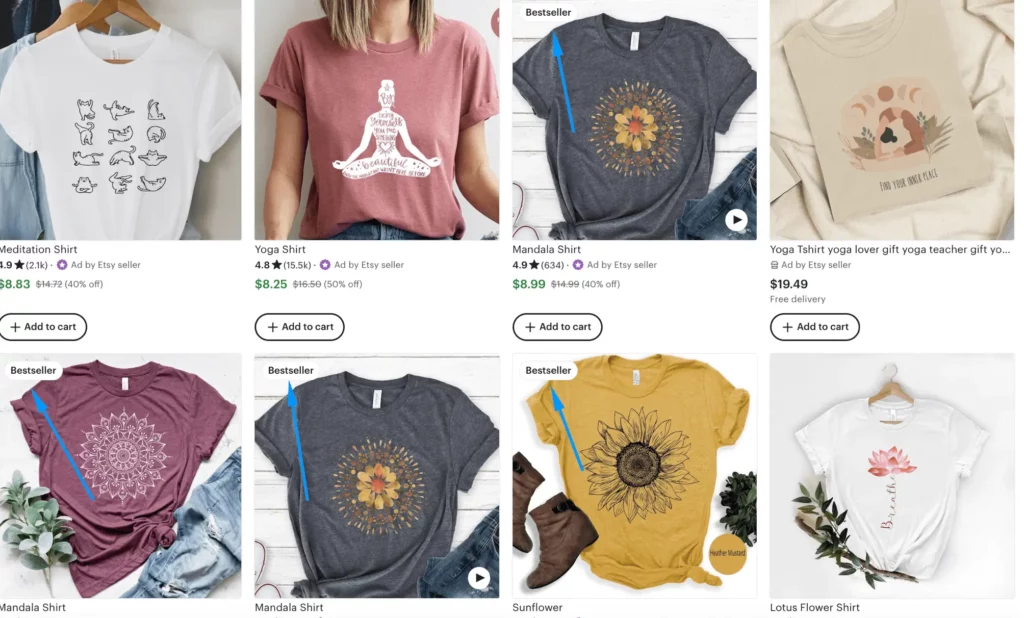 Head over to Etsy.com and search for your niche keywords. For yoga t-shirts, we would search "yoga t-shirt".
Look for designs with the best seller tag like the ones in the image above. Save 10-20 great examples.
Tip: Update your target location and currency by going to the bottom of the page on Etsy. Like I've selected the US location and US Dollars currency in the screenshot above.
Step 3: Find top sellers on Google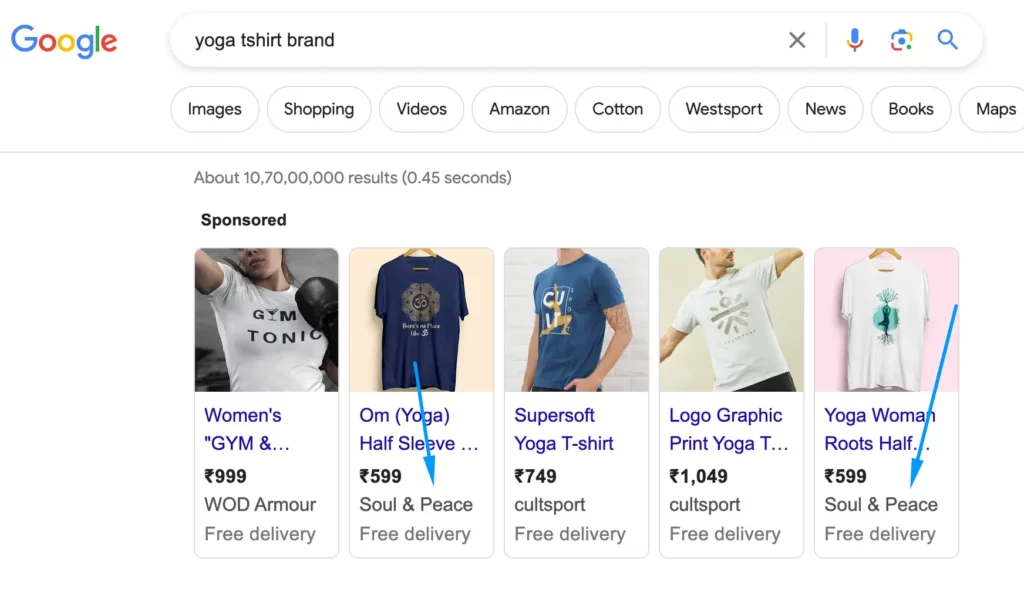 Next, head over to Google and search for your niche plus keywords like "brand" and "shop". For yoga t-shirts, we would search "yoga tshirt brand".
Find brands selling in your niche. Visit their stores and screenshot their top 5 best selling shirt designs from that niche.

Tip: To easily see top sellers on a Shopify store, add /collections/all?sort_by=best-selling to the URL.
Step 4: Check Facebook Ads Library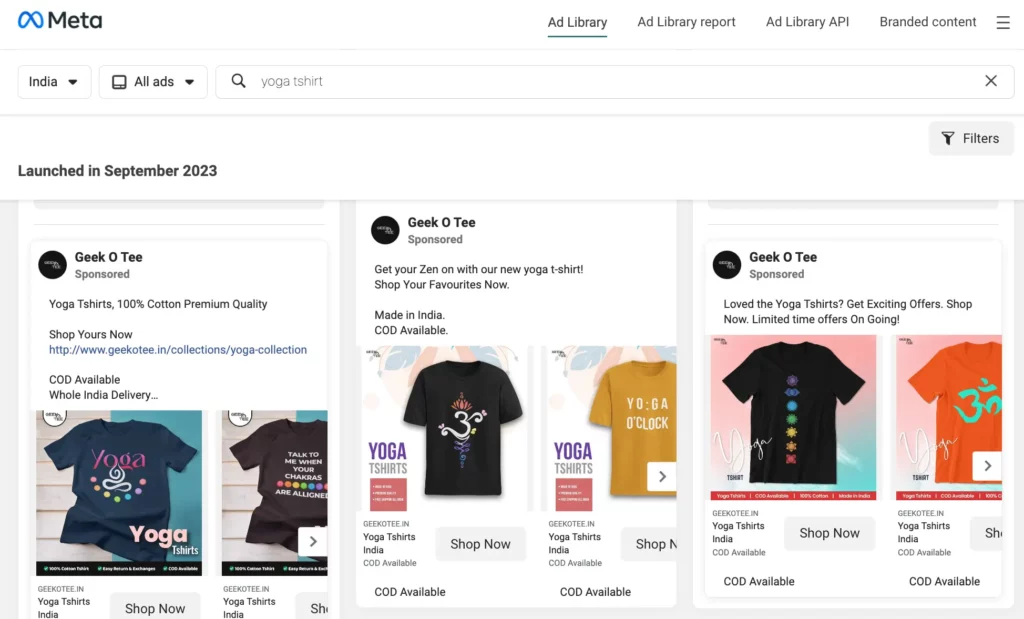 Head to Facebook's free Ads Library tool. Search for your niche keywords to find brands running ads. Go to their websites and look for their best sellers. Screenshot them.
For yoga t-shirts, search "yoga tshirt", visit the website selling yoga t-shirts and save their top best 5-10 best selling designs from this niche.
Step 5: Search Amazon listings

Amazon is another great place to uncover winning designs. Search Amazon for your niche and look through the first few pages. Screenshot any appealing shirts that catch your eye.
For yoga t-shirts, we would search Amazon and screenshot great finds from the first 1-2 pages of results.
Follow this process to gather 50-100 examples of proven winning designs in your niche.
And share these design screenshots with a freelancing designer and ask them to create something similar and better. Never copy. Always model.
Hope this helps.
This blog post is inspired from a recent email I sent to my newsletter subscribers. Join my newsletter to receive weekly emails from me about building eCommerce, drop-shipping and print on demand businesses : Join Here