E-commerce is a very broad term. When I say eCommerce, I simply mean online businesses that sell physical products.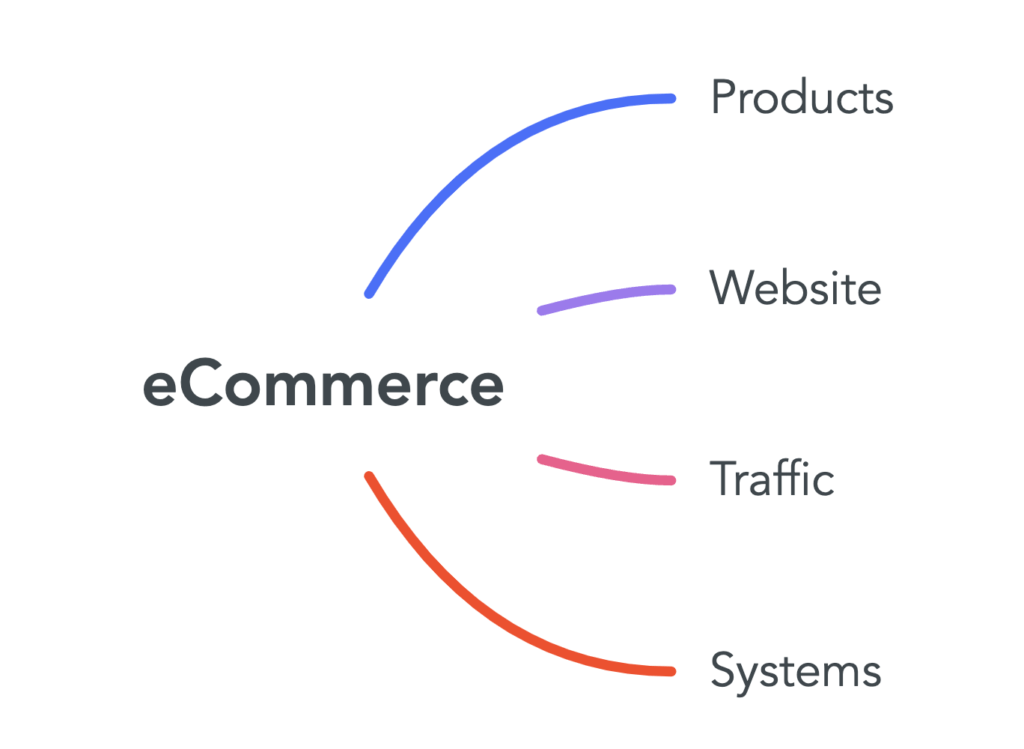 An eCommerce business runs on 4 major pillars:
Products
Website
Traffic
Systems
Products are the centre point of any eCommerce business. These products can be your own, can be products you buy from other suppliers or products you source and get shipped directly to your customers through your suppliers. We'll dive deeper into this later.
A website or your online store is your core online presence. You showcase your products and let people buy from your brand.
To make money for the brand, transactions need to happen. And these transactions will happen through real customers coming to your store. And this happens when you get user traffic. These customers can come from free and paid methods both.
To ensure everything runs smoothly you need systems in place. Systems for online order placement, delivery, customer support, reviews and a 100 other things. Almost all of these systems are automated and can be taken care of through software or people.
Now, there are different eCommerce based business models that you can start with.

3rd Party Marketplaces
Self Owned Brands: Drop Shipping, POD, Self Fulfilment
3rd Party marketplaces like Amazon enables sellers to sell their products on their platform. They take care of the traffic and systems. While the sellers take care of the products, listings and operations.
Downside: Very less control with the sellers, Risk of being banned, Cut-throat competition, Short Term
Upside: Massive customer base, no or very less marketing spend, Huge potential, No Major Operations
I'm not a very big fan of selling on 3rd Party marketplaces. It's a great way to make money but not the best way to build a brand.
Self owned brands have the maximum control. You own the customers, are responsible for everything and your business fate isn't dependent on some 3rd party platform.
Downside: High Marketing Spend, Complete Operations Management
Upside: Full control, Owned customer data, Long term, Unique Identity, Long term value, Brand Identity
I always recommend people to start their own brands.
Now, to run your own brand you need products. You can either manufacture them, buy stock and sell them or drop ship them.
Lets break these models down in detail.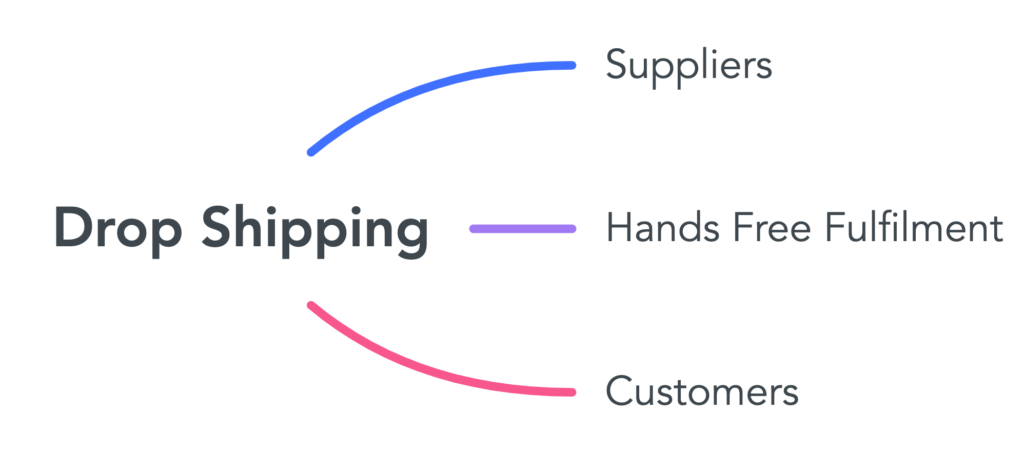 Drop Shipping
Drop Shipping is an eCom based business model where you find suppliers who already own the kind of products you want to sell.
You upload these products, that are usually non-branded, to your own website. Drive traffic and get sales.
The customers order from your website, your brand.
And you then ask your suppliers to ship those orders directly to your customers. And this happens in a way that your suppliers don't add any branding of their own.
You can also ask them to add your branding on the packets or products through stickers, welcome cards and other creative ways.
There are millions of drop shipping suppliers out there. They are more like business partners for eCommerce businesses. You sell the products that they already own under your own brand name and they take care of the entire fulfilment (packing, shipping and delivery).
Most drop shipping suppliers are based in China, US, India, UK, Canada, Australia and can be found on websites like AliExpress, AliBaba, IndiaMart etc.
Some examples of big drop-shipping brands: Inspire Uplift, Warmly and others.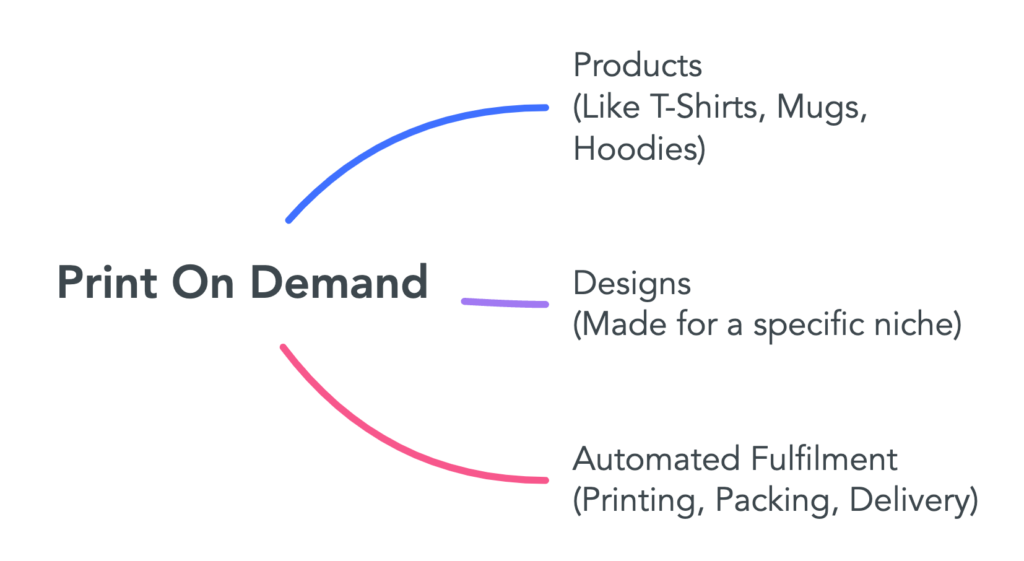 2. Print on Demand
Print on Demand or POD is a drop shipping based business model which involves selling of products that have printing involved. Products like T-Shirts, Mugs, Hoodies, Face Masks etc.
The brand owner gets designs created for a specific niche and selects the products he wants to sell those designs on.
The concept is pretty much the same and the process is smoother and faster with POD.
With regular drop shipping you usually maintain 101 communication with your supplier.
Whereas in POD you usually work with automated applications where there is little or no 101 communication involved.
Some famous and highly used POD platforms are Printify, Fuel, SPOD, Printful, PrintRove.
Some examples of POD brands are Shadawear, FerrisBuilt and others.
3. Self Fulfilment
Self Fulfilment as the name suggests involves manufacturing or stocking of your own products and fulfilling them directly.
You manufacture/stock, pack and ship your orders directly to your customers using delivery services like DHL, Fedex, Blue Dart etc.
The Self Fulfilment model is usually used by brands who want complete control over the order cycle. Also when the brand wants to sell something unique and different.
The brand that I run, Kalmin Ross, is based on self fulfilment.
We've got our own production unit in Delhi and we ship our orders using DHL and a shipping aggregator called Nimbus Post.
In the next post I'll explain how you should pick an eCommerce business model for your business.
Hope you enjoyed going through this one. Feel free to leave a comment if incase you've got any questions.