Everyone wants to build an eCommerce brand. It looks shiny, highly profitable and automated from the outside.
But in reality it's very different from what people think of it.
In this post I'll break down what it really takes to build an eCommerce brand in terms of money, time, effort and mindset.
I'll also answer the most frequently asked questions related to building an eCommerce brand.
But, before we even talk about that, it's important for you to understand what it takes in terms of taxation, legalities and company structures:
Now, lets get back to talking about what it takes in terms of time, money and mindset.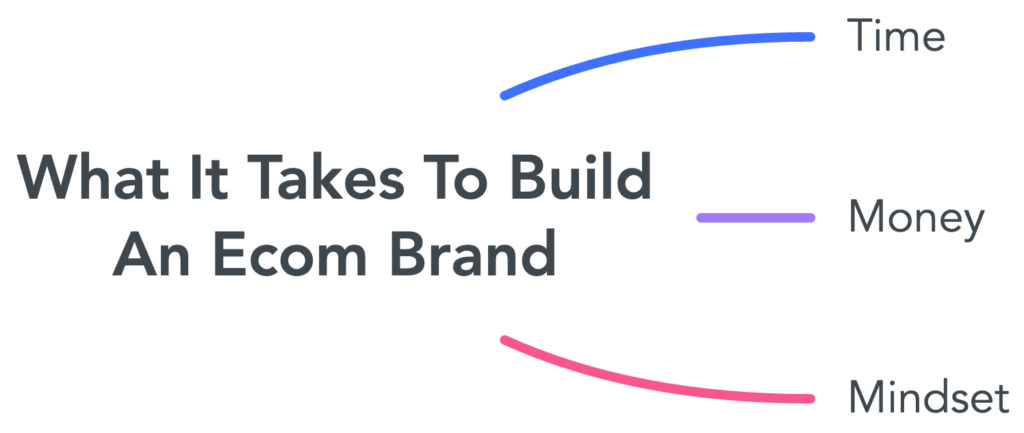 Building an eCommerce brand is a business. It's not a get rich quick scheme. It's not quick money. It's not something that you'd be able to automate within a month or two.
Mindset
It's a real business that takes time, money, effort, persistence and patience to build.
I'd not recommend you to build an eCommerce brand if you:
Just want to do it for money
Want to see results super fast
Got motivated seeing income screenshots from other brand owners
Just care about filling your pockets without serving your customers
Don't have the time to build your brand
I'd recommend building an eCommerce brand for you ONLY if:
You want to build a long term asset
Will obsess about providing great quality products to your customers
You want to genuinely serve your customers through your products
You really care about giving your customers a great experience
You'd want to do something different and unique with your brand as your progress ahead and become profitable
You'd be able to invest your time and energy into building it consistently.
2. Time
You must have the time it needs to invest in building your brand.
The minimum I recommend is 2 hours/day. Do this in the morning, night or whenever you want. But, if you don't have the time to build your brand, don't even start.
This time will be spent in research, marketing and running brand operations.
I've worked with a ton of aspiring eCom entrepreneurs who got started with their brands, but eventually gave up, because they couldn't find time to build their brands.
I believe that people always find time for things that are important for them. Start building an eCommerce brand only if you really want to build one.
Give this thought some time and space. So that when you begin, you go all in.
3. Money
Lets breakdown the places where you spend money in building an eCommerce brand with and without capital for ads:
With Ads:
Domain Name: $10-$15
Logo: $10-$15
Building your eCommerce store through Shopify: $1/mon for 3 months followed by $29/mon
Ordering Product Samples: $100-$200
FB/IG Ads: $1500-$3000 (Rs.1 Lakh – Rs.2 Lakhs)
Total Recommended Startup Capital Estimate: $2000-$3000 (Rs.1.5 Lakhs – Rs.2.5 Lakhs)
The biggest expense here is with marketing. This amount is spent in running ads and driving traffic/customers to your website.
When you start spending money in advertising and if you do it right you will definitely start seeing sales for your brand. And whatever you'd make from selling your products will then be reinvested in marketing.
It's a direct ROI generation activity. But, doesn't guarantee sales or profit.
After closely working with 100s of aspiring eCom brand owners, we found the $1500-$3000 ad spend to be the sweet spot.
Ecommerce brand owners, who start with drop-shipping or POD, are usually able to get profitable with a marketing spend in this range.
But, like I said, it's a possibility. Not a guarantee.
Building an eCommerce brand is a business after all. And no business in the world can guarantee you profits after a certain amount of spend.
If anyone in the world tells you that you'll get profitable in a business after spending a certain amount of money, understand that they're lying to you.
If any business in the world could guarantee profits this way, everyone in the world would be a millionaire today. Everyone.
The reason everyone's not successful with money is because finding business success if a very unique path. You can learn from other people's successes, but in the end, you'll have to walk your own path.
So, I always recommend people to have an on-going income stream if they want to build an eCommerce brand.
$1500-$3000 is a decent ad capital to start with and even get profitable in usual cases. But, this doesn't mean that you might not need more.
It's always good to have a constant stream of cash flow through your job or some other business so that you're able to invest in your eCom brand whenever it's needed.
And the money you spend is not spent blindly. You spend at places you already see potential at.
Like you would only spend money on marketing campaigns that have already given you sales and have the potential to give your profit.
Now, a lot of aspiring eCom brand owners ask me if they can drive traffic and customers to their eCom brands without spending in ads.
The answer is: Yes. It's possible.
But, it's also very slow and unpredictable.
You can do this by:
Tying up with the right Instagram/YouTube Creators for free.
Creating the right content on IG or YouTube for your brand
I've always utilised ads to drive 99% customers we've ever had for our brands. Because ads are very fast and predictable.
We've also used free sources. Yes, they work, but they take time, consistent content creation and are unpredictable, specially when you start.
If you don't have the marketing capital available, no worries. You can start building your brand. And drive customers organically, for free. But, be prepared to not see results very fast.
In this case, your estimated startup capital without ads will be:
Domain Name: $10-$15
Logo: $10-$15
Building your eCommerce store through Shopify: $1/mon for 3 months followed by $29/mon
Ordering Product Samples: $100-$200
Total Startup Capital Estimate WithOut Ad Capital: $400-$500 (Rs.30,000 – Rs.40,000)

If in case you don't start with drop-shipping or print on demand, you'll need to start with self fulfilment. Wherein you'd buy and stock the products you'd want to sell. In this case, you'll invest extra money in buying these products.
The money you spend in stocking products will depend on the products and the quantities you stock. And the money you dedicate here will depend on your overall budgets.
I'd recommend you to dedicate the least amount of money possible if you go the self-fulfilment route.
Example: If you want to sell 5 different kinds of pens that you're not able to drop-ship.

Cost per pen: $10
Minimum Quantity your supplier delivers: 10 per kind
Total quantity you'll need to buy: 10 pieces x 5 kinds = 50 pieces
Total stock investment = 50 x $ 10 = $500
Frequently Asked Questions:
How much time does it usually take to get profitable?
If you start with the recommended startup capital, invest at least 2 hours/day and do things right, you can expect to get profitable between 3-6 months on average. Again, these are just average figures based on the clients and students we've worked with.
Does it take a team to build an eCommerce brand?
When you're starting out, you don't need a team at all.
As you grow, you might want to outsource the tasks that take most of your time. These tasks are usually:
Customer service
Social media management
Coordinating with suppliers
I know many successful eCom business owners who are operating million dollar businesses with just them and 1 more person helping them with time consuming activities.
Which eCommerce business model should you start with?
I've written a detailed post about this here.
To summarise this post, if you want to start building a eCommerce brand in the drop-shipping or print on demand model:
You must have a long term business mindset if you want to build an eCommerce brand.
You must have at least 2 hours/day to invest in building your eCom brand.
You must have a startup capital of $400-$500 to start without an ad budget.
And $1500-$3000 to start with an ad budget.
If you go with self-fulfilment, you'll need to dedicate extra amount of money for stock. It's recommended to keep this the least amount possible.
I hope this post gives you full clarity about starting an eCommerce brand. If it does, I'd highly recommend you to checkout the free guide I've created to help you build an eCommerce brand from scratch.